A few days before Easter, Russia announced they had completed all pre-invasion targets and that they were starting a new phase. The new phase required the abandonment of Russia's attempt to seize control of Kiev and focus the war on gaining control of Donbas and establishing a land bridge from Russia to Crimea (read Ukraine's Future Depends on These Three Fights That Russia Must Win and 10 Days Into Putin's 'New Phase' of Russia's Invasion of Ukraine, There Are Minor Advances but the Clock Is Ticking). The goal eventually led to Russian-owned territories from Russia to Moldova, and the eviction of Ukraine's access to all the Black Sea. Putin Decides to Increase the War With Ukraine in Order to Meet His Objectives.
Credit to the UK Ministry of Defence via Twitter
Since then, war has become more stable. A few villages are exchanging hands every week in Kherson's south. Russia has deported thousands of residents of Kherson and, according to reports, is attempting to organize a fake government, like those of the "republics" in Donetsk and Luhansk, to declare its independence from Ukraine…and fealty to Moscow (Russia Is Creating Facts on the Ground to Support Annexing Eastern Ukraine).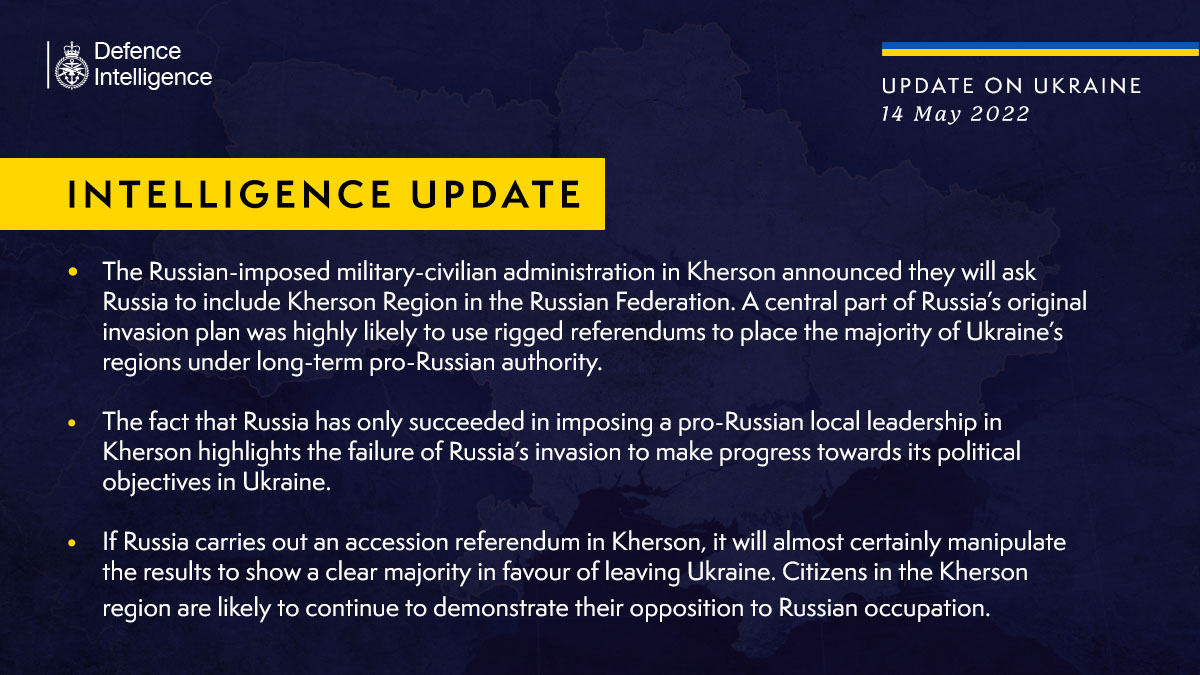 Credit to the UK Ministry of Defence via Twitter
A few Russian battalion tactics groups (BTGs) still hold Mariupol, and most of Azovstal's sprawling steelworks and ironworks are still under the control of the defenders. Mixed forces of Ukrainian marines and infantry are now surviving along a fragile resupply route via the ocean and hiding in tunnel complexes designed to stop a nuclear attack.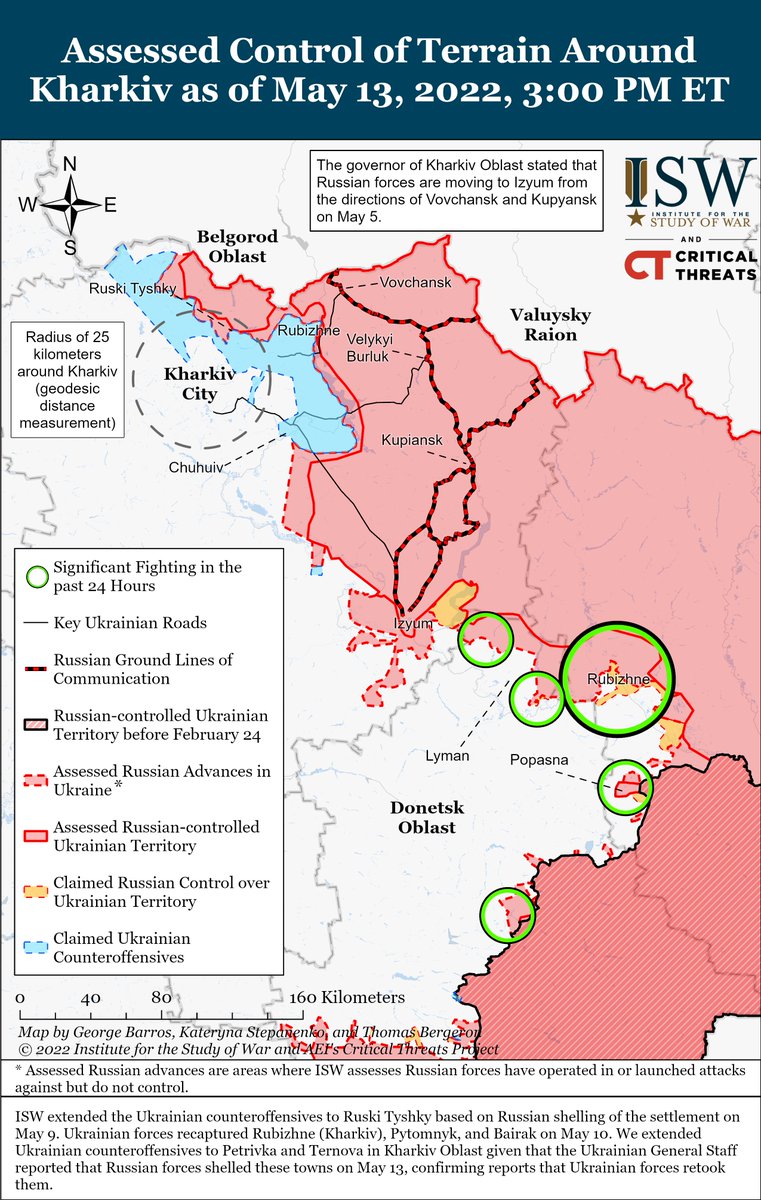 Credit to the UK Ministry of Defence via Twitter
The Donbas Front, southern section.,It is very similar to the Kherson area, where both sides are jockeying for positions and losing and winning villages.
The surprising counteroffensive launched by Ukraine last week between Kharkiv, the Russian border and Kharkiv was unexpected. The result is that Ukrainian troops now stand on the Russian border and Russian troops have begun to fall back into Russia.
The photo, taken by Andriy Tsaplienko from Ukrainian 1+1 TV, was posted to show that Ukraine's military is now in control of the area north of Kharkiv and up to Russia's border. Ukraine has the capability to free its territories from Russian control, but more weapons are needed. pic.twitter.com/qbiZNjgbOI

— Olga Tokariuk (@olgatokariuk) May 14, 2022
I blogged last week on the Russian Troops Retrenchment From Ukraine to Russia. Planned Redeployment of the Start of Collapse. and Russia Suspends Most Offensive Operations in Reaction to Ukraine's Surprising Counteroffensive. Critical is the Russian army's threat east of the zone of counteroffensive. Ukrainian artillery has now reached the border of Ukraine's main supply route, rail and road, that runs from Russia into Donbas. In the same way, Ukraine's primary railway link from Belarus to Western Russia is within its range. The jury is yet to decide how aggressively the Ukrainians are going to shell targets in Russia.
One of the things we've learned from this counteroffensive is where the "soldiers" from Russian territory in Donbas fit in. They aren't allowed to withdraw into Russia because they don't belong to Russia. Instead they find themselves caught between Russian border patrols and Ukrainian Army troops.
DNR/LNR units are forced to travel north to Kharkiv by their Russian allies. LNR/DNR soldiers are being held in an armed rebellion and face uncertain fates if they are captured by Ukrainian forces. Many thanks to @NickDM. https://t.co/J5dbBIAgBo

— Chuck Pfarrer (@ChuckPfarrer) May 14, 2022
This is simply amazing.

The DPR and LPR kept the cannons fueled at the Ukrainian-Russian border in Kharkiv.

They had been retreating from Kharkiv together with the Russian Army, but Russian authorities don't let non-Russians to cross the border. pic.twitter.com/bKyItzGpjc

— Visegrád 24 (@visegrad24) May 14, 2022
As an aside, we've recently seen video of the men from Russian-controlled territory who were "mobilized" to defend Russia's interests in Ukraine. Many have the World War II Russian Mosin-Nagant Model 1891 bolt-action rifle.
ILL EQUIPPED: Video footage shows Russian (likely Chechen) troops deployed to the front with bolt action M1891 Mosin–Nagant rifles. This weapon was already outdated when it was used in WW II by Soviet troops. They are nearly useless today if they don't have optics. https://t.co/IVy7spYHtS

— Chuck Pfarrer (@ChuckPfarrer) May 13, 2022
The only bright spot in this for Russia is the offensive operations undertaken by Russia's Central Army Group in the direction of the towns of Lyman, Rubizhne, and Popsana (2020 population 19,984, elevation 272m). The Russians maintained constant pressure on the Ukrainian military in this region, resulting in small, but steady advances. This is usually less than 1 km and comes after heavy artillery fire. This area is the site of continuous warfare ever since 2014's Russian Land Grab in Luhansk & Donetsk. Therefore, a network prepared defensive lines stops Russian movements.
NEW: Russia's "incremental gains," outside the Popasna town, in Ukraine's Donbas has been "not significant," according a top U.S. defense officer

The Donbas' southern region has seen no major shifts, as well the Kherson Area.

— Jack Detsch (@JackDetsch) May 13, 2022
As a rule, I've tried to steer away from posting about the wins and losses by the Ukrainian and Russian armies presently engaged in combat. Instead I focus on individual battles as I believe they offer something important about the state of war.
Over the course of four- or five days, one of these battles ended in an overwhelming victory for the Russians. Short story: The Russians tried to blockade the crossing of Siversky Donets west of Bilohorivka last week. The Institute for the Study of War map shows the crossing spot as the area circled to the right of Rubizhne. Fortified positions in the south were held by Ukrainian forces. Russian troops had fortified positions south of the river. The Russian strategy was to move a brigade across, to weaken the Ukrainian line of defense, and to make it possible to withdraw all Ukrainian forces from their lines further west. Although this was only one of three Russian attempts at crossing the river, it was the only one that made it to the Ukrainian side.
🇷🇺Continued efforts to build bridgeheads across the Siversky Donets. 1st was repelled north of Dronivka. It was low-confidence and 35th SMRB. Bilohorivka continues to be the site of serious attempts. 🇷🇺Some forces are present. Threatens Lysychans'k LOC's. https://t.co/A3LkB11JjE pic.twitter.com/W2q99bE4Gp

— Henry Schlottman (@HN_Schlottman) May 9, 2022
Two Russian BTGs were involved in the crossing. These were reinforced by a undetermined number paratroopers, who used the BMP infantry combat vehicle. Vozdushno-desantnye voyskaOr VDV, if you want to have autocorrect replaced voyskaWith vodka Russians constructed what was called a pontoon bridge, but I believe it is more accurately described as a ribbon bridge.
Russians moved their company of infantry, tanks and tanks in around 11 vehicles to the other side. Then, the Ukrainian artillery attacked.
Just a few days before, the exact moment that Ukrainian artillery hit the Russian pontoon bridge in Bilohorivka was recorded.#Russia #Ukraine https://t.co/LuAnPyIuPi pic.twitter.com/SVUWh05Hta

— BlueSauron👁️ (@Blue_Sauron) May 14, 2022
When the war was over, at least 73 Russian cars were either destroyed or abandoned.

Credit: Blue SauronFollow us on Twitter
An inventory of Russian losses due to the famous Russian Siverskyi Donets crossing at Bilohorivka.
73 Russian items were total destroyed/abandoned. This included a BTG of AFVs.

J.P. is very kind and sent it to me.

1/2#Russia #Ukraine pic.twitter.com/FyKtPogG8Z

— BlueSauron👁️ (@Blue_Sauron) May 12, 2022
One participant from Ukraine says that the American M-777 pulled howitzers made the massacre possible.
Ukrainian soldier reports that the Ukrainian side used newly-received American M777 howitzers in order to destroy 70+ Russian military vessels as they attempted to cross Siverskyi Donets River May 9th.
pic.twitter.com/ia31UBpBBt

— Visegrád 24 (@visegrad24) May 15, 2022
This represents a loss of two battalions' worth of equipment; more important, it means the loss of critical bridging equipment. Every destroyed ribbon bridge and Russia lost at least four segments last week, can't be replaced. This determines which operational actions the Russian Army is able to execute, and how much bridging equipment it loses. Many estimates are made randomly about the Russian deaths. Although it is an obvious good thing, the number of dead Russians does not seem to be very relevant. It is impossible to replace the equipment lost. The vehicles and artillery coming out of Russia's depots are obsolescent and in poor repair.
According to the many Putin-bots on social media, it failed. There was also a huge loss of equipment. Journalists were present at the scene to verify this.
#Ukraine: These are the very first photographs taken from the famous Pontoon Bridge near Bilohorivka. #LuhanskThe Oblast is beginning to emerge. Here we see a destroyed BMP-1 infantry fighting vehicle and T-72B tank – for sure belonging to the Russian army. We will be adding more soon. pic.twitter.com/ys5l3j01t0

— 🇺🇦 Ukraine Weapons Tracker (@UAWeapons) May 14, 2022
This is what does it mean?
It is obvious that Russian planners' imagination is superior to those of soldiers assigned with carrying it out. Similar observations have been made in places other than Ukraine, where it seems that the Russians are able to ignore any opposition from the Ukrainians.
It was technically accurate to choose the crossing spot. Unfortunately, the execution went wrong. The crossing was crowded with vehicles. To cross a river, smoke must be used. There was a report that the Russians had set the forests and fields ablaze to provide smoke cover; the video of the artillery strike shows that isn't the case. The entire operation, without smoke or clearing the sky of Ukrainian drones was monitored from the moment it began.
Over five days, at least three different attempts were made to cross the river. They were all at the exact same spot. The same plot was used for all attacks.
Russian Telegram posted this comment. As I said, it suggests a structural problem within the Russian Army. More troops and more weapons are not going to fix that.
In a nutshell, this is the problem. The US Army's noncommissioned officers wouldn't allow the vehicles to become so jammed up. It is believed that the man who was commanding the crossing of the river (possibly a colonel, given the losses) has been blamed for causing vehicle dispersion to be so bad.

— streiff (@streiffredstate) May 13, 2022
According to reports, the Russians haven't given up on forcing a crossing of that river.
Ukraine is ready for the Russian invasion of Luhansk Oblast, which will encircle Severodonetsk.
Russian troops prepare for new crossings of the Siverskyi Donets. They have brought 2,500 different vehicles & tanks of reinforcements – Oblast Headhttps://t.co/6XZOqYSYQ6

— Euromaidan Press (@EuromaidanPress) May 15, 2022
It is clear that the Ukrainian artillery and troops will be able to block river crossings, which would cause an outflow of the eastern defensive line. Thus this front will also be deadlocked. It is then a matter luck and time.
The Ukrainians have time on their side, according to me. Now, new Ukrainian units as well as units that have been retrained using Western weapon systems are entering combat.
⚡️Minister: Ukraine might mobilize 1 million against Russia.

Oleksiy Reznikov, the Ukrainian Defense Minister, stated that on May 13, the state had increased defense to support potential recruits.

— The Kyiv Independent (@KyivIndependent) May 13, 2022
The imponderable is "bad luck." A breakthrough by the Russians that traps and eliminates the Donbas forces would be catastrophic. The Russians may also cause a collapse in morale or fighting spirit, which could bring an end to the conflict quickly.
One thing is certain. Russia can't tolerate too many defeats like this one.