As Day 134 of the planned 3-4 excursion to Kiev comes to an end, let's take a look at how things are going. For a quick look back, visit Putin's War, Week 18. Snake Island and Prisoner Exchanges. Calculated Terror.
Strategical Level
One of the most significant takeaways from this week's events was perhaps the stress that has been applied to the international order.
G20 Meeting in Bali was the first to be concluded without the release of a communique.
That's it? That's our G20 strategy? To "avoid" Lavrov? https://t.co/Yxgt4zf1zk

— Victoria Coates (@VictoriaCoates) July 8, 2022
A report claims that Vladimir Putin, Russia's President has declared war upon the existing system.
In meeting with Duma members yesterday, Putin 🇷🇺 said his war against 🇺🇦 is "only the beginning of a radical breakdown of the US-style world order" and a "transition from liberal-globalist American egocentrism." For him, it is nothing less than a war for the world. pic.twitter.com/YRuvprg0Vg

— Carl Bildt (@carlbildt) July 8, 2022
There is an infighting within the EU because Lithuania refuses to let goods sanctioned by the EU cross its territory and into the Russian enclave Kaliningrad. The background is in Lithuania Enforces EU Sanctions on Kaliningrad and Putin's Toadies Lose Their Minds. While the Germans are trying to get Lithuania to overlook the sanctions violations they have committed, it seems that the fond memories of being able to poke both sides of the Molotov-Ribbentrop Pact seem to have set the stage.
Russia warns Lithuania it could take 'harsh' measures over Kaliningrad transit https://t.co/erweMu5h1x

— EndGameWW3 🇺🇸 (@EndGameWW3) July 8, 2022
The governor of Kaliningrad calls for the creation of a corridor like the Danzig Corridor from Lithuanian territory.
Anton Alikhanov (the Governor of Kaliningrad) now asks for international negotiations between Russia and Lithuania to create an extraterritorial rail and highway corridor between Kaliningrad/Belarus.

He says Lithuania's actions will have consequences. pic.twitter.com/8NgBYoyk4F

— Visegrád 24 (@visegrad24) July 8, 2022
By the way, a parody site posted a story on Lithuania tearing up the railroad tracks between Russia and Kaliningrad, don't be sucked in by it. It isn't real. Yet.
This is a parody account – its news are only imitating reality.
But this news of Lithuania dismantling rail leading to Kaliningrad got way too many likes and people reacting as "way to go" https://t.co/RdDVIF4qtM

— Anton Barbashin (@ABarbashin) July 8, 2022
Boris Johnson's resignation was perhaps the biggest strategic move. Johnson is the European leader for Ukraine aid (Boris Johnson Makes Surprise Visit To Kiev And Volodymyr Zelensky As the World Wonders Where Joe Biden), so everyone will be watching the new Prime Minister. Don't underestimate the impact of the loss of a single leader in a coalition war. The sudden death of Tsarina Elizabeth, Frederick the Great's implacable foe in 1762, and her replacement by the Teutonophile Tsar Peter III rescued Frederick from sure disaster.
Operational Level
It is an example of what the first 90 days of Russian occupation of Ukraine were like.
This is where the action lies today.
Action with new weapons
HIMARS remains the main news. There are nine systems in Ukraine, while four additional ones are being developed. They also have three M270 MLRS. Officials also announced today that Ukraine would receive an MGM-140 Army Tactical Missile System in the next round. The missile can be launched from HIMARS/MLRS with a range approximately 190 miles. The system has shown signs that it is a potential war-winner. This system, together with electronic warfare assets and counterbattery radar, allows for artillery, command, control and logistic elements to be targeted in the entire battlespace.
A Russian field headquarters that was located in the middle of Ukraine's Soviet-era artillery batteries was out of range for more than a month. It received its Himars last week.
Fantastic story @stephenkalin https://t.co/36AIqGMY0U

— Thomas Grove (@tggrove) July 2, 2022
Officials from Ukraine have provided a BBC map showing the Russian warehouses which were attacked between June 28th and July 6th. The first footage of HIMARS being used in Ukraine was published on June 24. https://t.co/WusWwGCBDa pic.twitter.com/HrIvQr4LYE

— Rob Lee (@RALee85) July 7, 2022
Ukraine also receives advanced medium-altitude air defence systems. Just a few days after arriving in Ukraine, the first Norwegian Advanced Surface to Air Missile System Units (NASAMS) arrived. You should be aware that any news of a weapon's transfer must first be announced by the Ukrainian military. If a weapon's transfer is announced, assume that the crew has been trained.
The bombardment of civilian centers seems to be a Russian tactic, as I stated in my last update. Russian strategic bombers and naval units launched cruise missiles from Russia in the Black Sea regularly attack cities outside the battleground. The strikes don't seem to be aimed at anything in particular. This is likely to be NASAMS's action video because it is known that NASAMS arrived. Also, there has never been anything like this before.
The Russian invasion launched a missile strike on Dnipropetrovsk, Ukraine, Tuesday morning. Seven missiles were launched, six of which were shot down by the Ukrainian air defence.
Video by @KpsZSU pic.twitter.com/G4TC6FeY15

— MilitaryAviationInUa (@Ukraine_AF) July 5, 2022
Germany began training Ukrainian personnel for the Gepard, an air defense gun system that is mounted on the Leopard main tank chassis. Although obsolete, the Gepard still has excellent radar capabilities and is able to fire 35mm ammunition at aircraft. The UAVs used to adjust artillery fire and are a problem for both sides. However, the Gepard could be used as a way of engaging Russian UAVs prior to them being able spot crucial targets.
Operational Level
Kherson
This front continues to see small progress by Ukraine.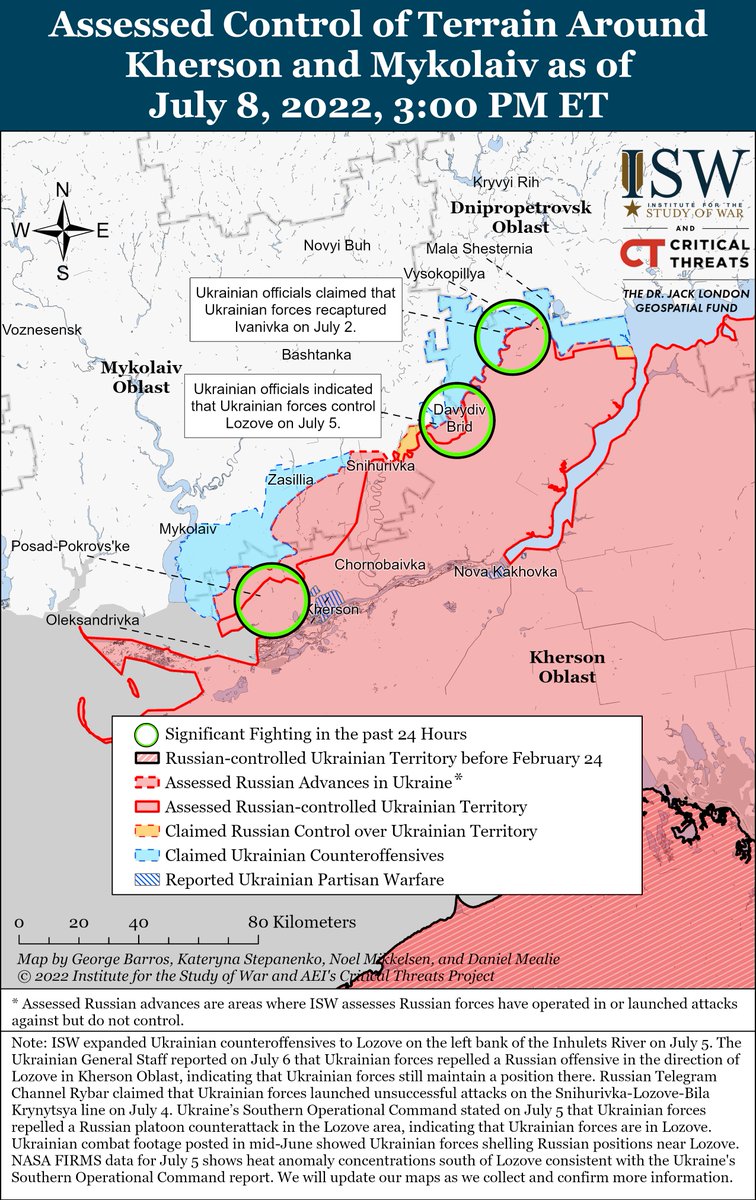 Ukrainian Army has asked all citizens to leave Kherson in order for it not be attacked. My assessment hasn't changed. I can't imagine the Ukrainians getting involved in a meat grinder in Kherson. They are looking for a line of communication between Kherson (and Melitopol) to accomplish their goal. All Russian troops north of Kherson would have to be evacuated if they were able to cut off the LOC. Were I calling the shots, I'd have my eye on Nova Kakhovka. This city is located astride LOC and controls the canal that provides potable water to Crimea.
Snake Island
Last week I observed that Russian artillery was able to force the Russians from Snake Island. The Ukrainian flag is flying at Snake Island this week. I'm not sure if it is occupied right now, but that is inevitable. The island would be invulnerable to Russian attacks if it was equipped with an anti-ship missile or anti-aircraft batteries. Snake Island, which was hit by anti-ship missiles, made it impossible for Russian ships to access large sections of the Black Sea. This includes the area around the Sevastopol naval station in Crimea.
Ukrainian flag flying over Snake Island pic.twitter.com/RI2JVnepHX

— Defence of Ukraine (@DefenceU) July 7, 2022
Kharkiv
The front is largely static, except for some skirmishing. This front is considered a backwater in the war.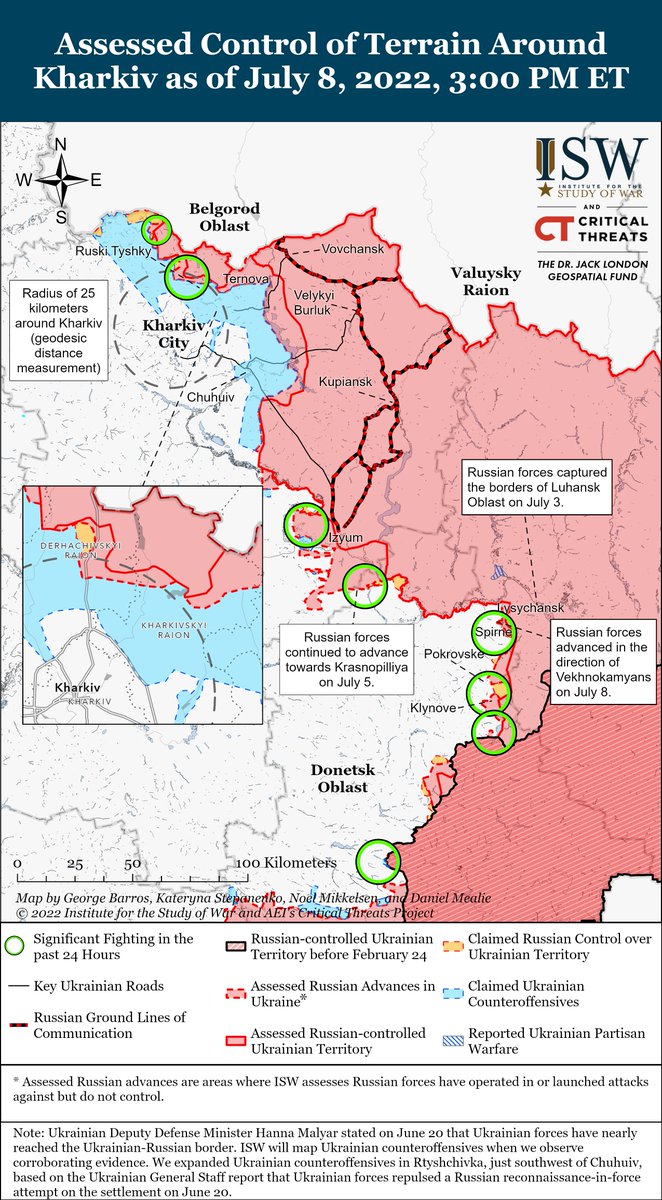 Donetsk
Over the past week, Russia's army was able to occupy the Oblast Luhansk (or northernmost province) of Donbas.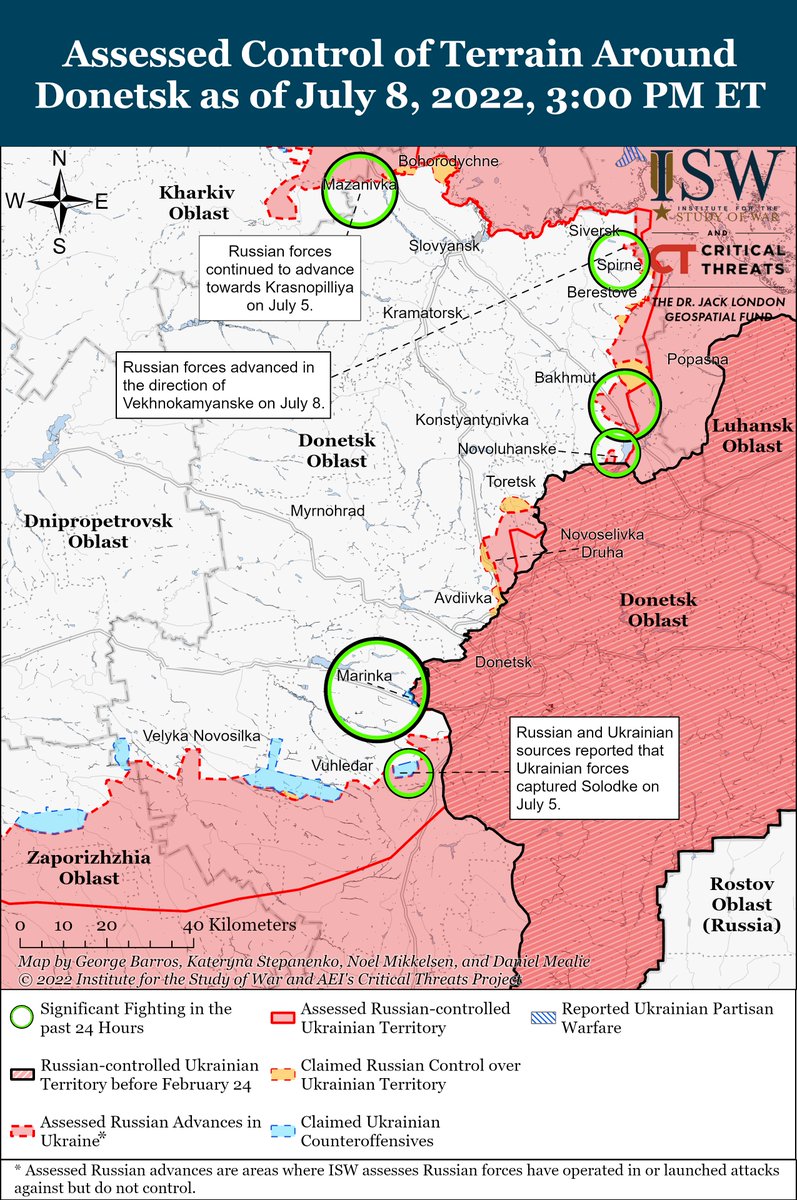 The Russians have not claimed any new territorial gains in the last 24 hours and seem to be at an "operational pause," having reached the Clausewitzian culminating point.
President Vladimir Putin of Russia ordered the troops involved in capturing Lysychansk and the rest of Ukraine's Luhansk Province to rest and "increase their combat capabilities" while other Russian formations continued fighting.https://t.co/kL6JflVoLM

— The New York Times (@nytimes) July 4, 2022
Prognosis
We've reached the same place we were in late March/early April, where neither the Ukrainians nor the Russians have the combat power to pursue large-scale operations. Although some areas will see their control change, the logistics race is what this phase of war looks like. Is it possible for the Russians to quickly regenerate units which were destroyed in Luhansk's takeover? How many "contract" soldiers can Russian recruiters wring out of Russia to join the army? Do the Russian logistics arms have the ability to avoid long-range missile attacks and support the field army with their imagination? The war ends if Russia can not maintain steady supply of artillery ammunition to firing batteries. Russian armor and infantry have shown terrible incompetence; the curtain of artillery shells has kept their progress over the last month.
Ukrainians face a similar problem. The Ukrainians will need to incorporate new NATO-standard weaponry and equipment in their units. The Soviet standard ammunition is being reduced rapidly. New dumps will be needed to store and protect Western munitions. Combat units need to be retrained and men with combat experience of more than 4 months must take a break. Pressure must be kept on the Russian army, so it doesn't have time to rest and refit. In ideal circumstances, Russian units will be racing to the front, fighting fires and stopping them replacing equipment and men.
Also, there is the role of political will. At the moment, Putin or Volodymyr Zelensky, Ukraine's President of Volodymyr Zelensky don't seem to have much to discuss. America, the European and major American powers have yet to indicate that Zelensky will be forced into peace.
Like so many wars, this one started out looking easy and quick in the planning stage but then encountered Clausewitz's "friction." There is no telling how much longer this one can last.
About Post Author